Ellis is one of the My Scene boys. He is a member of the band Urban Desire with his friends River, Sutton, and Hudson. Ellis plays the lead guitar and supplies background vocals in the band. He is Delancey's love interest, and later became her official boyfriend.
Personality
Edit
Ellis is characterized as Euro-American. He is interested in becoming an actor and currently he is taking acting lessons. Although he loves NYC, he wants to follow his dreams of becoming a Movie Star in Los Angeles. He loves hanging out with his friends, enjoys to eat, and loves skating around the city and surfing at the beach with his girlfriend. Ellis is pretty awkward and shy around girls, especially when it comes to asking out Delancey on a date.
Physical Appearance
Edit
Ellis is marketed with brown hair, light skin tone, and green eyes.
Relationships
Edit
Ellis is romantically linked to Delancey.
All About Me
Edit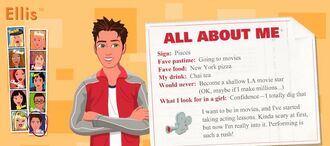 Sign: Pisces
Fave pastime: Going to movies
Fave food: New York food
My drink: Chai tea
Would never: Become a shallow LA movie star (OK, maybe if I make millions)
What I look for in a girl: Confidence - I totally dig that
I want to be in movies, and I've started taking acting lessons. Kinda scary at first, but now I'm really into it. Performing is such a rush!
After asking Delancey out on a date in Jamaica, their relationship is explored further as he helps Delancey give away her kittens (which is an extension of a story line video at My Scene.com). Their relationship development gives a different element to the line which is different in comparison to the committed relationships explored with other characters like River and Barbie, Bryant and Nolee, who seem to have made an official relationship commitment.
Ellis is named after Ellis Island in New York.
He is the least produced character out of all the My Scene boys, and was later discontinued in 2009 when he moved away.
Ellis' birthday is on March 1.