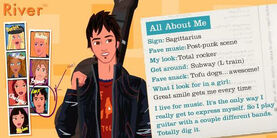 River is one of the My Scene dolls. He is of a Hispanic descent. River is the vocalist and bass guitarist of the gang's rock band Urban Desire along with his friends Sutton, Hudson, and Ellis. He lives for music, it's the only way he can express himself so sometimes he plays with a couple of different bands. River is romantically tied to Barbie.
Personality
Edit
River is the "musician" character," and by all accounts so far "the bad boy." A self-described "Total Rocker", River spends most of his time playing gigs at clubs with several different bands, and chasing away girls who dig him. His musical instrument of choice is the electric guitar and likes the post-punk scene.
Physical Appearance
Edit
River has black hair, light skin tone and brown eyes.
Relationships
Edit
River is romantically linked to Barbie.
All About Me
Edit
Sign: Sagittarius
Fave music: Post-punk scene
My look: Total rocker
Get around: Subway (L train)
Fave snack: Tofu dogs... awesome
What I look for in a girl: Great smile gets me every time
I live for the music. It's the only way I really get to express myself. So I play guitar with a couple different bands. I dig it.
In Urban Desire, River is the lead singer and a electric guitarist.
In Masquerade Madness, River's bull mastiff dog is named Barker.
River was named after the Hudson River in New York, just like Hudson.
River was one of the first My Scene boys introduced.
River's birthday is on December 6.